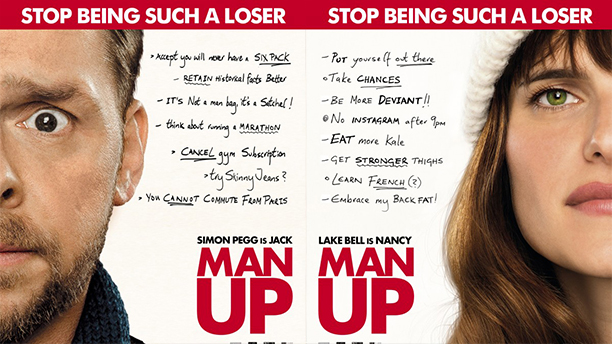 The Trailer:
The Plot:
When a man (Simon Pegg) mistakes her for his blind date, a woman (Lake Bell) decides to play along to see what happens. they spend their time together and have so much fun that Nancy dreads telling Jack that she's not Jessica, not really..
it boils down to having Nancy's longtime adulator, Sean (Rory Kinnear) to blackmail Nancy in the toilet that finally the ruse is out.. Jack is furious at the deception but Nancy tries to reason with him that she is just taking her chances with him.. she's 34 already and for once, she's being impulsive. they continue to snap at each other until Jack realizes that his bag is left at the cantina with Nancy's diary in it. they race each other for it and arriving, Jack's bitterness over the deception simply simpers down.. he tries to be cordial to Nancy until the arrival of his divorced wife, Hilary and the man she was having affair with simply annoyed him. Jack passes Nancy off as his girlfriend and good naturedly, she just plays along. once Hilary lets it out to Nancy that it was she who was having an affair during the marriage, Nancy sees Jack on a different light and sets out to help him out. they flirt and dance it off to make Hilary jealous.
on the dance floor, Jack and Nancy converse about each other, this time more openly seeing each other's faults. it hurt Nancy badly that Jack is able to see her cynic view of life. it makes her think of herself. they then proceed to drink a shot together with Hilary and Ed. Ed's coat suddenly gets caught in the fire and Nancy, having lied about being a firefighter is trusted to put off the fire only to spurt the nozzle towards Hilary and Ed both..
the laugh over the incident brings Jack and Nancy close again that as they go to the Waterloo Station where Jack is supposed to meet the real Jessica, Nancy mumbles about inviting Jack over to her parents' 40th anniversary party. Jack obviously doesn't catch up with the invitation as he's excited over meeting the 24-year-old Jessica. they part in good faith as Nancy kiss Jack's cheek.
at her parents' house, over the jubilant mood of the party, Nancy simply breaks down and cries over losing Jack much to the consternation of her family. on the other hand, Jack finally meets up with Jessica (Ophelia Lovibond) and discovers that the chemistry is not there between them. he ends up telling her about Nancy and she encourages him to find her.
remembering that Sean is the only link to Nancy, Jack finds him at the bowling alley. Sean drives him to a house and drops him off. only for Jack to find out that he's at a wrong house where a party of young people is going on. thankfully, a boy (
Dean-Charles Chapman
) there knows where Nancy used to live. Jack then leads the whole bunch of boys and girls to Nancy's parents' house where he finally makes a speech about how he feels. to which Nancy answers, quid pro quo :)
Review:
I adore this movie. it is funny, heartfelt and honest. Jack and Nancy are so believable and the chemistry between both of them is just right.. Sean is disgusting, thank you. and the fact that there is a boy in a random party (Tommen of GoT no less) who knows where once Nancy lived simply boggled my mind.
this movie makes me pine, the way a great romantic movie does, for a really great guy like Jack.. he's not frighteningly attractive, and has his failings, yet somehow, the heart simply connects, regardless. it doesn't take weeks, months nor years, a day would suffice..
me = hopeless romantic.
one thing that I really love about this movie is that it puts LB as the person who withholds the truth. usually it is a guy thing who simply decides to play the ruse, this time it's a woman's role, which is I find a refreshing twist. mind you, at age 34 myself, given the situation, I would too, within a heart beat. because Jack seems awfully like a nice person. he's charming on the get go and they simply click off from the start. I would like to find out where it would lead, don't you too? take chances, put yourself out there, or like Nancy chants over and over "get stronger thighs"
hehehe